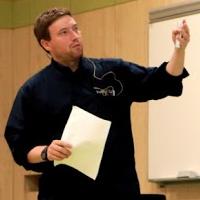 Jonathan Riddell, Canoeist, Quaker and Computer Person.
I make a Linux operating system called KDE neon and I currently work for Blue Systems. I previously made Kubuntu, a flavour of Ubuntu. I am the largest contributor to Ubuntu by uploads in the last decade.
I mostly live in Edinburgh in Scotland, but travel around and stay elsewhere such as Guadeloupe or Barcelona.
I canoe at Forth Canoe Club and elsewhere in Edinburgh and I go to Central Edinburgh Quaker meeting.
You can hire me to consult on Linux and computing issues at my consultancy Edinburgh Linux.   You can also hire me to host mailing lists and Quassel cores and websites.
Most importantly you can hire me to train you in canoeing, I am a British Canoeing UKCC Level 2 Coach with 4* and Moderate Water Endorcement qualified to train and lead on whitewater.