The world's second largest democracy has chosen a parliament.  A fantastic showing of our democratic right to decide who governs us.
2014 Parliament: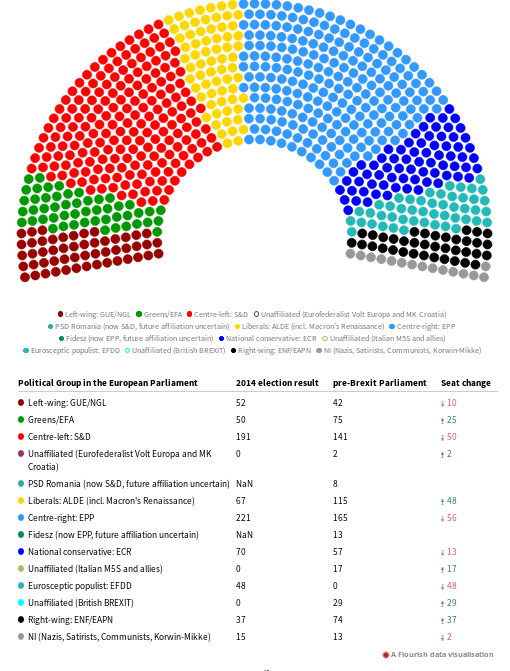 The 2014 parliament saw the pro-euro tory group EPP and the labourist S&D group have over 400 members, an easy majority, so when they agreed on a decision it would pass.  All of the presidents were from the EPP, president of the council Donald Tusk, the president of the commission (the government) Jean Claud Junkier were from the EPP and president of the parliament Antonio Tajani.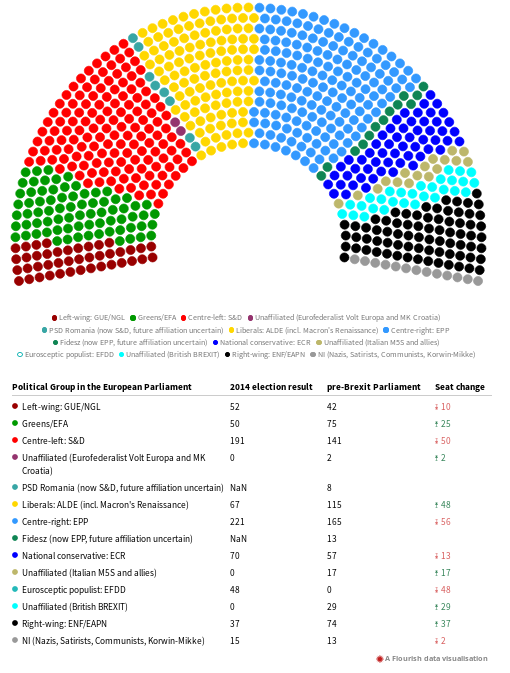 In the parliament just elected the picture is not vastly different but there is a significant shift of power.  Keep in mind that the groupings may change once the parliament comes to sit but assuming the parties keep the groupings they said they did we now have EPP + S&D down to about 300 members meaning to get something passed they need to talk to either the enlarged Liberals (in Britain that's the Lib Dems) or Greens/EFA (in Britain that's SNP, Scottish Greens, English Greens and the surprise winners Plaid Cymru).  This means we have no idea who will become president of the Commission, it might be the Ska Keller from the Greens or Oriol Junqueras the Catalan MEP in jail in Madrid both of which which would be a fun change in the status quo.  Of course these presidential positions are not like a US President incharge of all policy they are more chairs who set agendas but still have to allow the full trialogue system to work through but they will have some effect.  This is a great result and it's a nice balance of powers in the parliament.
Of course it's the Westminster government that let the side down by not running the elections properly.  Dirty money funded the Brexit Party and promoted by the BBC (where you will see none of the above information covered) means they took over from UKIP and took the grumpy leave voters from Conservatives and Labour with them to make some gains, but not much.  Over the last month I've seen how disenfranchised EU citizens were not knowing how to register to vote and on the day even those who had were often turned away because the relevant council bodies had not processed their forms.  If there is to be another referendum on EU membership the rules and bodies and media who oversee our democracy need fixed first.
Thanks to https://europeelects.eu/ep2019/ for coverage and graphics.