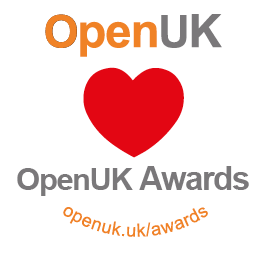 OpenUK is looking for two charismatic and diligent individuals to be judges in the 2021 OpenUK Awards. After a successful first edition in 2020, OpenUK are looking to find two judges from the Community to judge the Awards with Katie Gamanji, our head Judge for 2021.
To be considered as an OpenUK judge:
You will be someone who knows at least one of the Open Source Software, Open Data or Open Hardware spaces well, enjoys engaging with the communities and wants to see good projects, people and organisations recognised, and
You will be willing to spend some time reviewing circa 100 applications and to make a fair assessment of the applications, be able to present your decision to your fellow judges and then to present during the Awards ceremony charismatically.
The Judges' work requires a dive deep into the nominations and diligent investigation of all of the applications to come to a well informed and balanced decision.
Nomination form is open now if you'd like to help or you can think of someone who would be suitable.